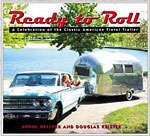 Doug will give a vintage travel trailer lecture and will be signing books at the Good Sam Club Rally in Hutchinson , Kansas on June 24th; then giving the same presentation at the Sloane Museum in Flint Michigan on June 26th and 27th. Tentative dates for later in the year are in Bellingham Washington (Vintage Trailers) and Milwaukee (Cemetery Symbolism). Doug will also be doing a number of book signings in conjunction with the release of his latest titles, Classic Cottages, Stories in Stone and Silver Palaces.
Lightning Flash
The McWilliams Collection
Click the pic for the full
flash experience!
Recently discovered trove of 1915-1923 photos by Lincoln, NE African-American photographer Earl McWilliams. View more in the gallery.

Tomb of the Month
The Tomb of Oscar Wilde
It took a number of years after Oscar Wilde's death before he could truly rest in peace. Even now, a century after his departure from this realm, there is a constant stream of tourists milling about over his head. The complete story...

Golf News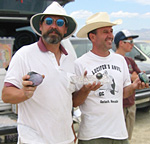 CONDITIONS IDEAL AT LAST BLACK ROCK TOURNEY
The 16th Annual (and last official!) Black Rock Self-Invitational Desert Classic was held June 21st and 22nd of 2003. The Playa Golf Gods, as if in farewell salute to our humble event, gave the dozen or so 2-person teams the most benign weather conditions in memory. The winning team of Steve Robesen and Bob Vranizan had each competed many times before, but never together.